Visitors who viewed product videos are 85% more likely to buy than visitors who do not.
- Internet Retailer


7733 Douglas Avenue
Urbandale, IA 50322
Toll Free: (800) 247-2502
Local: (515) 333-4337
E-mail:
sales@flickfusion.com

PicMotion Video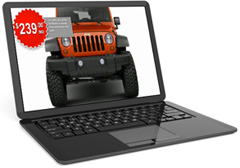 Information delivered in record time.
PicMotion Videos include engaging images and voice-over narration of standard equipment and features, all in one minute or less. We stream videos to you, so on-the-fly updates are a snap and you never have service interruptions. PicMotion Videos are released around the same time as new vehicle pricing and are optimized for mobile on-the-go research.
With only seconds to grab consumer attention and keep it on your site, we can help you meet consumer demand for high-level vehicle information delivered in record time.
To give PicMotion Video a look and a listen, click here.
For more information please use the contact information to the left and we will get back to you as soon as possible. Thank You!