Sites with Video increase conversion by 30%.
- L2 Specialty report


7733 Douglas Avenue
Urbandale, IA 50322
Toll Free: (800) 247-2502
Local: (515) 333-4337
E-mail:
sales@flickfusion.com

Smart Flicks
Overjoy your customers with offers in our Overlays.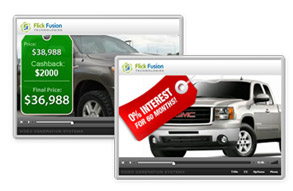 Our Smart Flicks incorporate real-time rebate and incentive offers into any new-inventory vehicle video for your customers. And it's done automatically.
Our Smart Flicks deliver:
Comprehensive rebate and incentive data dynamically integrated into new inventory videos-including consumer rebates, APR, bonus cash, and even free satellite radio offers
The most accurate information based on your dealership's ZIP code
Real-time automatic data updates-no more worries about outdated info
Enticing calls to action for your customers-who can in turn take advantage of great rebates and incentives
To see our Smart Flicks, click here.
For more information please use the contact information to the left and we will get back to you as soon as possible. Thank You!