Over 3 Billion videos are viewed per day on YouTube - Video Syndication.
- YouTube


7733 Douglas Avenue
Urbandale, IA 50322
Toll Free: (800) 247-2502
Local: (515) 333-4337
E-mail:
sales@flickfusion.com

Social Video App
Let your Video Go Social with our Social Video App.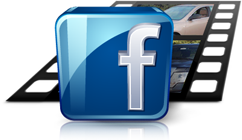 With our Social Video App, you can easily integrate your inventory videos on your dealership's Facebook Fan Page for all to see and share. Videos are updated automatically with price changes, overlays, incentive updates and much more.
Social Video App Benefits:
Integrates all your video inventory on the largest social network in the world
All inventory videos can be shared with Facebook friends and relatives (free advertising)
Extend your dealerships brand and inventory's visibility
Provide dynamic multi-media driven video presentations of your product line
No maintenance required
Increase customer engagement and leads to your dealership
To see our Social Video App in action, click here.
For more information please use the contact information to the left and we will get back to you as soon as possible. Thank You!