Over 3 Billion videos are viewed per day on YouTube - Video Syndication.
- YouTube


7733 Douglas Avenue
Urbandale, IA 50322
Toll Free: (800) 247-2502
Local: (515) 333-4337
E-mail:
sales@flickfusion.com

Timeline Marketing
Unleash the power of marketing with this award-winning technology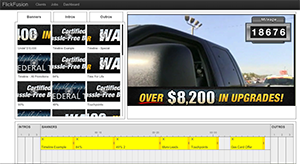 In conjunction with our Live Video Upload feature, Timeline Marketing was a winner of the 2013 Driving Sales Innovation Cup.
This unique and powerful marketing tool allows you to easily and quickly brand your videos with targeted marketing messages. Is your manufacturer offering a cash rebate? Is your dealership offering 0% APR? Maybe you just want to create a value proposition message encouraging prospects to visit your dealership or offering a no-hassle buying experience.
Timeline Marketing allows you to quickly create banners and overlays for both new videos and existing videos on the Internet. If you have a new promotion and you want to get the message out, there's no need to re-shoot any of your videos. Just login to our platform, select the type of banner you want, type in the message, then add the banner to a "timeline" along the video. You're in control of where and how long the banner appears in the video. You can also choose to add or change intros and outros that brand your dealership. More than one banner can be applied to the same video.
Once your banner is created, you can choose whether to apply it to all your existing videos or to select videos only. Timeline Marketing offers a variety of filters based on vehicle year, make, model, price and more. You can also insert a hyperlink in the banner, directing the viewer to any URL location desired.
When the banner is finished, just hit "send" and Timeline Marketing automatically updates all your existing (or filtered) videos that are on the Internet; including your dealership web site, YouTube, third-party inventory sites and more.
Timeline Marketing offers the following benefits:
Increased Control. Third-party sites format vehicle inventory listings according to their specifications, not how you want the information presented. Targeted banners on inventory videos ensure that your exact message is conveyed in the manner you want
Differentiates your dealership on third-party sites like Cars.com and Autotrader.com with colorful, dynamic video presentations
Increases conversions with eye-catching graphics and targeted call-to-actions
Greatly expands the reach of your marketing messages and promotions by inserting them into your videos on the Internet, potentially generating hundreds if not thousands of views.
Eliminates video production fees from web site providers and marketing companies every time you want to change or add a promotion to a video
For more information please use the contact information to the left and we will get back to you as soon as possible. Thank You!