Visitors who viewed product videos are 85% more likely to buy than visitors who do not.
- Internet Retailer


7733 Douglas Avenue
Urbandale, IA 50322
Toll Free: (800) 247-2502
Local: (515) 333-4337
E-mail:
sales@flickfusion.com

Text-to-Speech Videos (TTS)
Speak now. Or let TTS Video do it for you.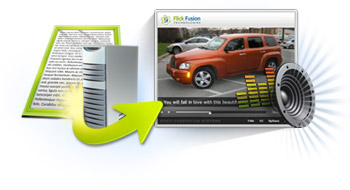 Our Text-to-Speech Videos (TTS) do all of the work for you with computer-generated, human-sounding narration, merged with smooth in-motion images of your inventory and its features.
Our TTS Video delivers:
Professional-sounding narration in a lady's or a gentleman's voice, describing the attributes of your inventory
A true streaming video that showcases your inventory in engaging images, reinforced by automatically generated audio
An automatic TTS script with a description that's unique so your videos will always be unique-if you prefer, you can provide any script you want with your dealership's special offers, incentives, or any other details
A finished video with high-quality audio that can be easily integrated into any website
To see and hear our Text-To-Speech Video for yourself, click on these examples:


For more information please use the contact information to the left and we will get back to you as soon as possible. Thank You!