Over 3 Billion videos are viewed per day on YouTube - Video Syndication.
- YouTube


7733 Douglas Avenue
Urbandale, IA 50322
Toll Free: (800) 247-2502
Local: (515) 333-4337
E-mail:
sales@flickfusion.com

Video Generation and Syndication Platform
We've gone to great lengths to take your inventory faster and farther.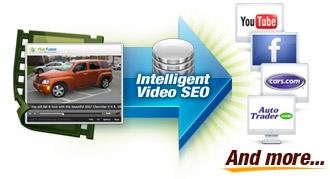 From our Video Generation and Syndication Platform, your dealership can launch countless videos, hosted on the world's largest content delivery network. Built to scale, it can accommodate an ever-growing network of videos, and deliver the fastest possible video streams in the industry, distributing and syndicating your robust inventory content to your full web site and mobile site-plus to YouTube, AutoTrader.com, Cars.com, and Facebook-to name just a few of today's most visited destinations.
Our video creation and syndication solutions deliver:
The most feature-rich videos available anywhere in the industry
The highest quality video resolution to best showcase your inventory
Intelligent Video SEO-your videos are tagged and generated to be search-engine-friendly to ensure easy indexing by Google and other major search engines
An automated video generation process that saves you time and money as it helps your dealership expand its presence and visibility in the digital universe
A virtual showroom that increases traffic, lengthens time spent on your site, and boosts your sales opportunities
Complete real-time statistics about who's watching your videos right now, plus full historical data
24-hour underground server security with comprehensive backup and peace of mind
With our platform, it's your inventory. At its very best.
For more information please use the contact information to the left and we will get back to you as soon as possible. Thank You!