9 out of 10 people surveyed said they would click on a video to view before reading about the product.


7733 Douglas Avenue
Urbandale, IA 50322
Toll Free: (800) 247-2502
Local: (515) 333-4337
E-mail:
sales@flickfusion.com

Vehicle Information Overlay (VIO)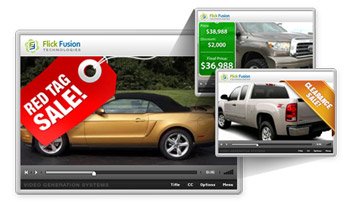 Overlay. And overcome the competition.
With our Vehicle Information Overlay (VIO), your videos undergo an over-the-top transformation that goes above and beyond to help your inventory stand out against your competition. Feature any or all of the following overlays on any video to enhance your inventory. And get it noticed.
Title Overlay: Features vehicle year, make, and model
Price Overlay: Presents your vehicle's competitive price
Mileage Overlay: Pinpoints your vehicle's mileage
Features Overlay: Showcases vehicle options provided
CARFAX Overlay: Lists CARFAX Vehicle History Report information about the vehicle (requires additional CARFAX Add-on)
Sales Overlay: Announce your Dealership's sales events
Our Vehicle Information Overlays are integrated directly into your raw video file, which means they display anywhere your video is distributed-on vital destinations like YouTube, AutoTrader.com, and Cars.com. To add the richness of our VIO feature to your videos, all you need is Flick Fusion's Video Generation System and Human Voiceover (HVO) Add-on. Beyond that, there's no additional cost or set-up needed.
To see our Vehicle Information Overlay (VIO) under the spotlight, click here.
For more information please use the contact information to the left and we will get back to you as soon as possible. Thank You!