Visitors who viewed product videos are 85% more likely to buy than visitors who do not.
- Internet Retailer


7733 Douglas Avenue
Urbandale, IA 50322
Toll Free: (800) 247-2502
Local: (515) 333-4337
E-mail:
sales@flickfusion.com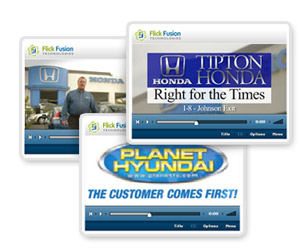 Video Wrappers
There's no downside to wrapping it up.
Our intro and outro Video Wrappers, placed at the beginning or end of any vehicle video, say just what you want to say about your dealership. Your choice-you provide professional video clips produced by your dealership as an intro or outro-or we can custom-design clips for you with your dealership's unique branding. Either way, our Video Wrappers speak load and clear about what your dealership has to offer to its customers.
Our Video Wrappers:
Deliver opening introductions for your dealership as well as closing remarks that can include directions to your store or specific calls to action
Can include an intro clip or an outro clip, or both clips to meet your specific needs on every video, depending on its intended use and distribution points
View examples of our Video Wrappers:
---


---


---

---
For more information please use the contact information to the left and we will get back to you as soon as possible. Thank You!